Hi All,
So I made a custom bubble maker due to the process being a bit of pain in the ***. Essentially this tries to automate it.
This converts PSP isos for use in Vita PSP game bubbles.
Update:
Fully automated
Processing functions are better and faster
Text updates more accurately
Text can be copied if anything is of use to you after processing.
Drop sign_np and npdpc_fixed in "Files" along with your PSP backup and Sony XPD.
Click Get EBOOT and wait for the message "EBOOT.PBP ready!"
Screenshot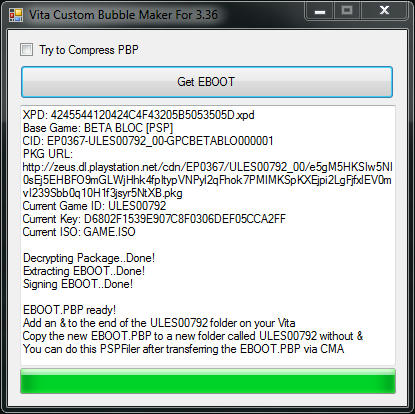 The rest of the steps can be done with PSP filer after moving the eboot over with CMA.
More details are in the ReadMe, Zett does an excellent job of explaining the transfer process in his video.
Thanks to Zett for this video
https://www.youtube.com/watch?v=yg3Y7_ohQ14
I can't record for ****, but I was able to get my backup of Ape Escape working via Lemmings (I like both games, it was a test!
)
Updated file available here.
http://www.mediafire.com/download/98uw1 ... _Maker.zip
Advertising