Introduction
Toy Wars is a game inspired in Toy Commander, from Dreamcast.
The game consists on missions which take place in a house, like the original.
The game
At the moment only a few missions are available, but the house is almost complete. The game has an online rank available at rank.toywars.davidgf.net where you can upload your high scores. Some bugs may be visible and the online rank may not work sometimes. Tested on 6.38 ME3 and 5.03 with chickhen.
The PSP must be capable of running encrypted prx kernel modules, so no user mode, sorry! At this moment there may be some bugs realted to the menu. When playing for a long time (entering leaving the menu) the PSP may crash due to memory fragmentation errors, cause TW sucks a lot of memory.
Controls
Analog: Movement and pointer
Dpad: Menu movement and camera.
X: Main shoot
O: Secondary shoot
Triangle: change vehcile (combine with dpad left and right)
Square: weapon change (combine with dpad, up/down/left/right)
Start: Pause and menu
Triggers: Acceleare, deaccelerate and brake (at the same time).
Screens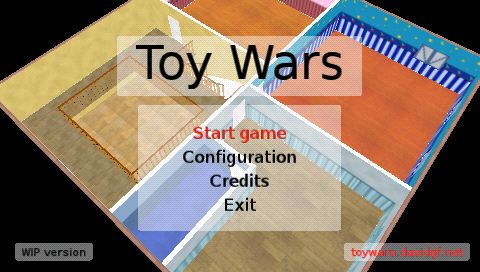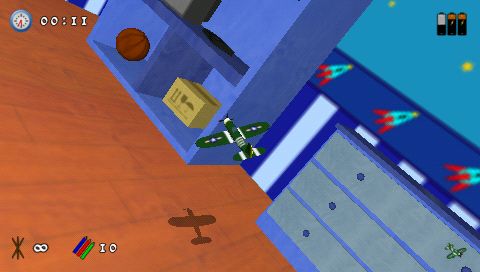 Video
[spoiler][/spoiler]
Download
http://usuaris.tinet.org/davidgf/toywar ... sis_v2.zip
md5sum: 6e6f49faf80ee0d9d82d95d200259d97
Old version:
[spoiler]
http://usuaris.tinet.org/davidgf/toywar ... /EBOOT.PBP
md5sum: 86d8324f55465dd73f81de1d70967178[/spoiler]
Thank you!
I'll update the game in some hours, as it's still 29th at USA is not a problem right? It has some texture issues (modeling related) and misses some new music, which has been sent to me today. Maybe I submit a video.
Update: Added the new version with a fix and new music for the ingame and menu. I have to say that everything in the game was made from scratch by me or my contributors and all the materials are from a public domain source, so no license problems!
Advertising