A newer version of this app (2.00) is available here.
On 19 August 2012, Leviadragon released his new application to the PSP homebrew community. But unfortunately, the zip archive provided on
QuickJump
& some other PSP websites was corrupt, & neither winrar, winzip, 7zip, nor Windows Explorer was able to extract. Fortunately, by using Zip2Fix, I found the corrupted file, which was naturesounds.ogg, extracted the archive, & added a new naturesounds.ogg. Plus, I changed ICON0 & PIC1 (the app icon & background) to 2 nature pictures.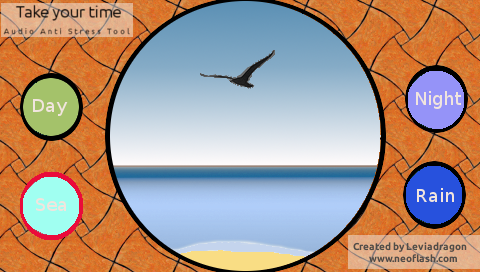 To download the fixed application, here's the link:
http://www.mediafire.com/?uze9g7pwahf80gy
UPDATE:
The app on the link above is not working. Thank you trillerkiller for the fix! Direct link:
http://205.196.122.189/p2j0mrtdc28g/udh ... urTime.zip
Source download:
http://wololo.net/downloads/index.php/download/7825
Have fun with this new application!
Advertising