Advertising (This ad goes away for registered users. You can Login or Register)

Thanks Rinnegatamante, great work.
Advertising

Thanks @Rinnegatamante for this port.
I'm not sure if everything is fine with soundtrack.
If I name "my" ogg tracks like this and place them in "ux0:/data/Hexen II/cdtracks":
Casa1.ogg
Casa2.ogg
Casa3.ogg
Casa4.ogg
Casb1.ogg
Casb2.ogg
Casb3.ogg
Egyp1.ogg
Egyp2.ogg
Egyp3.ogg
Meso1.ogg
Meso2.ogg
Meso3.ogg
Roma1.ogg
Roma2.ogg
Roma3.ogg
I
do not
have soundtrack (music).
If I name "my" ogg tracks:
track02.ogg
track03.ogg
track04.ogg
track05.ogg
track06.ogg
track07.ogg
track08.ogg
track09.ogg
track10.ogg
track11.ogg
track12.ogg
track13.ogg
track14.ogg
track15.ogg
track16.ogg
track17.ogg
Everything is fine
, I have music.
Font in settings is quite small: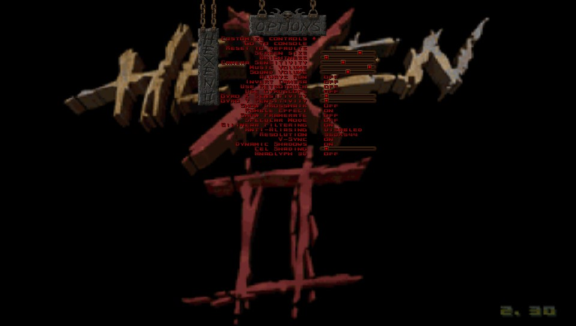 Tried vitaHexenII v.2.3 on PCH-1104.
Advertising

I have few problems with this port.
Every save has got the same date (01/01/1970 00:00):

Tree (probably dynamic) shadow looks "strange":

After some time playing game I have problem with loading progress:



Couldn't load SOUND/ARCHER/GRWL4.WAV:

Objectives are always blank:

Thanks for current work & best regards.
Hello is Vita 1000 on FW 3.60 supported?
I tried it just copied my files for original game and expansion pack. Menu works fine, but in game, at the start i got game picture for few seconds.. with 2 vertical strange red lines and .. and after black screen with only HUD and these lines, sound is still working, menu is still working..
When i restarted game i got ingame working without crashing to black screen, but there still there annoying lines..
Some more info about which files to copy would be good, because there is for example glhexen folder, im not sure it should be copied too.
There is also lots of flickering in menu and some yellow backgrounds from time to time..