Due to the depreciation of Rejuvenate by Yifan Lu, gui4Rejuvenate will no longer be maintained. It will not receive any future updates.
gui4Rejuvenate is a user-friendly graphical front end for Yifan Lu's Rejuvenate. It is simply a graphical front end, and requires Rejuvenate. It is meant to be dropped into your Rejuvenate directory, but you may set a path to your Rejuvenate installation in the settings.
It's simple to use. Just select the homebrew elf from the list box and click "Run Homebrew". Start PSM Dev or PSM Unity on your Vita (depending on mode, it defaults to PSM Dev on first run) and your homebrew will run on your Vita.
Should run on Windows XP up. Windows XP users will require .Net Framework 4 to be installed, but if you are running Rejuvenate, it should already be installed.
Features:
Automatically finds and lists homebrew in your Rejuvenate directory
Supports both PSM Dev and PSM Unity
Run RPC or Package Install from the Utilities menu
Screenshot: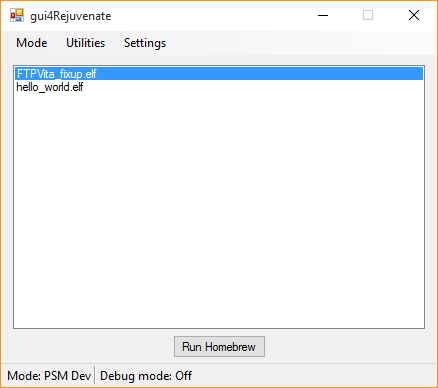 Known bugs:
"Run RPC" in the Utilities menu crashes VitaDefiler/VitaDefilerUnity. Not sure why this is, but I don't believe it's specific to this application. (Fixed in version 0.3 with Rejuvenate 0.3.4)
Current version: 0.4 (Released 10/25/15)
Changelog:
0.1 (Released 9/9/15)
0.2 (Released 9/10/15)
Fixed a bug that may make PSM Unity mode not work.
0.3 (Released 9/27/15)
Support for Rejuvenate 0.3.4
Support for Rejuvenate 0.3.4's debug mode
0.4 (Released 10/25/15)
Ability to set you own homebrew directory
Added PSM+ option to Utilities menu that goes directly to the PSM+ page
Settings window can no longer be unnecessarily maximized or resized
Download 0.4:
Download
Page on /downloads
Advertising