Hi, Wagic build 0.20.1.1787++ for Kaladesh & Aether Revolt released!
Screenshot: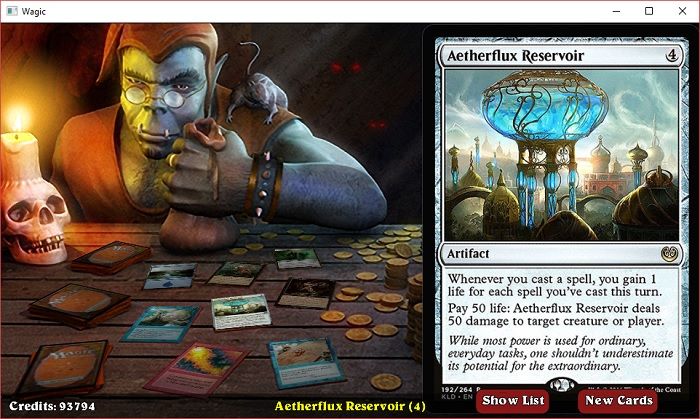 Download link (Github)
:
https://github.com/WagicProject/wagic/releases
Mega Mirror (PC & Android) March 14, 2017 (Private Build)
Download link Android:
https://mega.nz/#!tkoRAJCY!boRtEXkb_6ey ... DXKsEooP0s
Download link Windows:
https://mega.nz/#!okRwTS4D!j2hjr_hPMUqU ... UCK0LDUbpU
EXTRA STEPS FOR PSP USERS ONLY!!!
after downloading wagic-psp.zip from github, extract the zip file then browse to WTH\Res folder, delete the graphics folder, download this graphics.zip from mega:
https://mega.nz/#!VhhiiL6R!0kAM5n3abiRJ ... BBK3VqMrGw
after extracting graphics.zip replace it in your WTH\Res folder. Unless someone can make a good python script (resource script) that do this automatically for PSP releases,

You need to do this everytime you update from github if you're on PSP.
Todo:
Improvise mechanic doesn't support X cost atm...

Target devices:
PC
Android*
Examples:
Improvise:
Code: Select all
[card]
name=Barricade Breaker
abilities=mustattack
other={improvise} name(Improvise)
text=Improvise (Your artifacts can help cast this spell. Each artifact you tap after you're done activating mana abilities pays for {1}.) -- Barricade Breaker attacks each combat if able.
mana={7}
type=Artifact Creature
subtype=Juggernaut
power=7
toughness=5
[/card]
Revolt:
Code: Select all
[card]
name=Airdrop Aeronauts
abilities=flying
auto=if revolt then life:5 controller
text=Flying -- Revolt — When Airdrop Aeronauts enters the battlefield, if a permanent you controlled left the battlefield this turn, you gain 5 life.
mana={3}{W}{W}
type=Creature
subtype=Dwarf Scout
power=4
toughness=3
[/card]
Energy Counters
Code: Select all
[card]
name=Servant of the Conduit
auto=alterenergy:2 controller
auto={T}{e:1}:Add{G}
auto={T}{e:1}:Add{W}
auto={T}{e:1}:Add{U}
auto={T}{e:1}:Add{B}
auto={T}{e:1}:Add{R}
text=When Servant of the Conduit enters the battlefield, you get {E}{E} (two energy counters). -- {T}, Pay {E}: Add one mana of any color to your mana pool.
mana={1}{G}
type=Creature
subtype=Elf Druid
power=2
toughness=2
[/card]
Please report bugs if any. Your feedbacks are greatly appreciated. Suggestions for GUI are welcome. Thanks