PSP EXTRA TOOL / PSPEXT v100 eng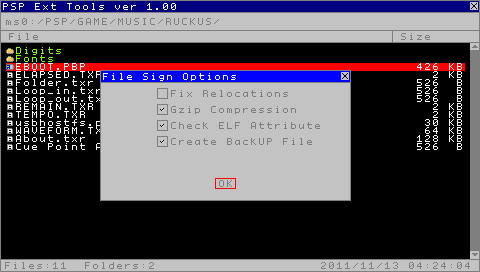 - app to sign homebrews for ofw (eboot up to 8mb).
- compress eboot
Latest Version : v1.00 eng
Release Date:
-0001/11/30
Notes for this version:
also available as japan version @
http://blog.livedoor.jp/kotetujun/archives/51287303.html
Downloads
Find download links for PSP EXTRA TOOL / PSPEXT v100 eng below.
Older Versions
(Some additional versions are pending review)
More...
In this section you will find additional links related to this application
We didn't reference any discussion on our forums about this homebrew yet, but you can create one!