Snes9xTYLmecm(/cm) 0.4.2 Mod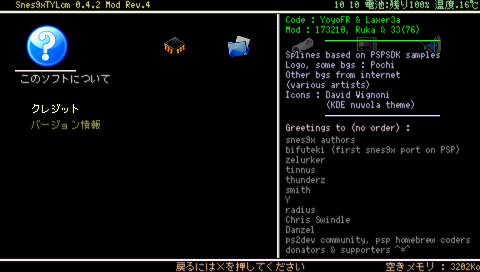 This is a mod of Snes9xTYLmecm(/cm) 091127.
Snes9xTYLmecm is a mod of Snes9xTYL which is famous as Snes emulator of PSP.
Latest Version : Revision 26
Release Date:
2013/11/3
Notes for this version:
Changed the cheats view.
Downloads
Find download links for Snes9xTYLmecm(/cm) 0.4.2 Mod below.
Older Versions
More...
In this section you will find additional links related to this application
We didn't reference any discussion on our forums about this homebrew yet, but you can create one!