Antispam system added to the Wagic Forums!
This entry is both an apology for not maintaining the Wagic forums enough lately, and a big THANK YOU to Zethfox who has been relentlessly fighting spam bots while in parallel keeping our community alive and maintaining Wagic.
We stopped officially developing Wagic a few months ago, but this doesn't mean the community isn't active.
If you don't know what Wagic is yet, here's a quick summary:
Wagic is an heroic fantasy collectible trading card game (available on many platforms, check the download page for details). In Wagic, you play as a wizard against the CPU with your army of minions. You start the game with a small collection of cards (symbolizing creatures and spells), and as you win battles against the AI, you earn credits that allow you to buy more cards and build more powerful decks. As you play, you unlock cards and new game modes, so Wagic is much more than a simple card simulation.
Wagic features several thousands of cards in the official release,but if that's not enough for you, it is highly customizable and allows to create your own cards and mods. Oh, and Wagic is free and open source.
Wagic is available for Android, the PSP, The Playstation Vita (if you have either VHBL or TN's CEF), Windows, Linux, Some Nokia smartphones, the iPad and the iPhone. You cand download it here
New cards keep getting added regularly to Wagic, and if you are not afraid of a bit of text files manipulations with Notepad or your favorite text editor, you can add them to your existing Wagic install. Check new cards here.
Even more interesting, discussions are ongoing to support Archenemy in Wagic, follow the ongoing thread here.
Want the newest MTG Sets? You can download the following, which were not included in the last official release of Wagic: Gatecrash, Return to Ravnica, Magic 2013, Avacyn Restored, but also fan created sets in our Custom Sets section
Not satisfied with the 100+ opponents decks? Find more decks here, either for you, or for the AI to try.
Also, this is a bit old, but I can't stop being impressed by kevlahnota's Theme for Wagic, which he released last year: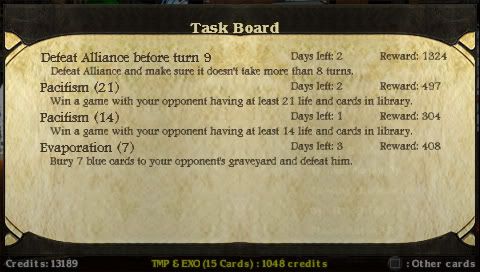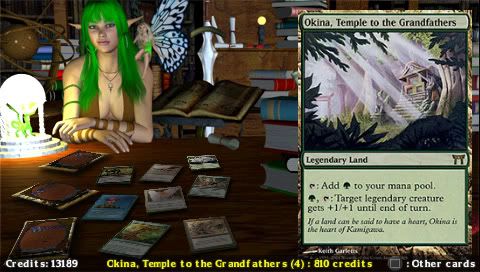 You can download this theme here, and many other more in our Themes section
The more I see the ideas our community can come up with for Wagic, the sadder I get that I can't properly maintain this project. Don't be mislead, Wagic is a homebrew, but it's still a high quality game with an insane replay value. I wish I had the time to maintain Wagic more seriously, but if you have created unofficial builds, or mods with additional cards, etc… please feel free to share them, here or on our (now spam free) Wagic forum.
Oh, right, 'cause that's what I wanted to talk about initially: I installed the AntiSpam ACP mod on the Wagic forums. You might have seen we've been successfully using that antispam mechanism on our /talk forums, and I had been procrastinating to install it on the Wagic forums as well. Well now it's done, and hopefully if you are a Wagic fan, you'll appreciate the cleaned up forums. And if you're not a Wagic fan yet, what are you waiting to try it?
Any mods/sets/decks you've seen in the forums lately that you'd recomment? Share them in the comments below!