VHBL: Updated list of compatible homebrews with Neur0n's upcoming release
Here's a summary of compatible/incompatible homebrews so far with Neur0n's upcoming port (again, many thanks to our tester).
If you want to read what VHBL can and can't do, and how you can be one of the first people to get your hands on our release, check the first part of this article here.
Homebrews that work
(note: some links are to the specific versions that I tested, which might not be the latest version for each homebrew. In general, it is recommended to get the latest version, but sometimes VHBL gives us less choice):
DaedalusX64 (N64 emulator). I tested an early build of DaedalusX64 that was specially crafted for HBL, and it works. It is slow, but it runs. I haven't tested recent builds. Remember that DaedalusX64, even on CFW, rarely runs at full speed, so I'm on the fence about saying it "works" on VHBL. I tested with Ocarina of Time and it was extremely slow.
GPSP (GBA Emulator). The version I tested is one of the "unofficial kai" builds. Savestates seem to work fine as far as I can tell. I tested Final Fantasy tactics advanced
NesterJ (NES emulator). Per many people's request, I've tested the AoEX version of NesterJ. It worked fine with my test of "bomberman", although I couldn't figure out how to show the emulator's menu once inside a game.
Bookr. Tested the 0.8.1 version (basically the latest), the PDF reader for psp works, as usual, very well on VHBL.
Masterboy (Sega Master System / Game boy Color emulator). The latest version 2.10 works fine, nothing much to say. I tested wonderboy 3 on SMS, and some Dragon Ball Z card game on GBC.
Nazi Zombies Portable. This quake mod in which you have to defend a barricade against a horde of Nazi zombies works fine on VHBL. Loading times are quite long, but other than that it works fine.
Wagic 0.18.6. The least I would expect is for my own homebrew to work on VHBL :D. In all fairness, Wagic went through lots of tweaking when we initially created HBL, and is now made to run in a fairly restricted environment such as the one provided by HBL. Wagic is a heroic-fantasy collectible card game.
Cave Story. No surprise, this platform/rpg game has always worked fine on VHBL so far.
Doom PSP and Doom Legacy. They both have their pros and cons, so choose the one you like. I need to try Heretic on those, as I was a big fan of that game.
Quake 1 Arena (from time to time framedrops but very enjoyable on the Vita)
Tetriabetes (strangely it recognizes the music I have put on my Vita?)
MVS (a little bit slower than the CFW version but still pleasant to play)
uo_SNES9x 0.02y32(kinda of slow from time to time)
Picodrive The Sega Genesis emulator is flawless as long as you set the sound to 44kHz in the options. I tested Aladdin and Streets of Rage 3
CPS1 (Perfect but the menu combo is a Start+Select+R which is hard to hit on the Vita )
gpsp (works with savestates)
---
---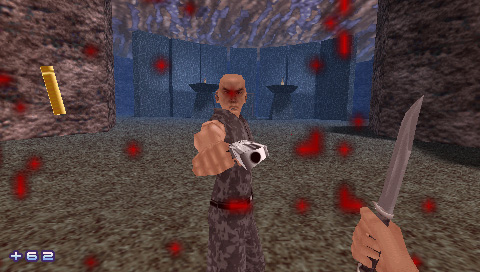 And more: Kitten Cannon, Ultra, Super Tux, Metal Blob solid,…
Homebrews/Apps that don't work
Thing Thing (Most probably would work but for some reason it does not find its files )
pspkvm (Not sure what is the right version for VHBL but I tried several with no luck)
PSPLBreakout
Lua games in general
ScummVM. Yup,too bad… I've tested both versions 1.0.0 and the latest 1.4.1 of this great point and click adventure game engine. They don't fail at the same step, but for now the port is not usable in VHBL. The crash is not caught by pslink so I am not sure what's going on… it could be an error with audio functions, but this is strange since they are all hooked correctly as far as I can tell.
Snes9xTYL. Update: now works with a specific crafted version! Read all about it here! This one's a let down… But uoSnes9x, as mentioned above, works
PSP Revolution gives me a crash just after loading. Here again, a wild guess is that some audio function is failing… No Dance Dance revolution on VHBL for now 🙁
S4inexcraft: This popular Lamecraft mod still used the PSP's OSK, which doesn't work on the Vita. I didn't bother testing any further since this is a "no go" for the Vita. If the new keyboard from the latest Lamecraft release gets integrated into S4inexcraft, I'll give it a try again.
The next release of VHBL is scheduled for "sometime after Vita firmware 1.80 is released". The exact release date will of course depend on many factors, and in particular, the schedule assumes VHBL actually runs fine on 1.80. I cannot predict if/when VHBL will be definitely patched by Sony. Sony's 1.80 firmware will be released on August 28th