Hi,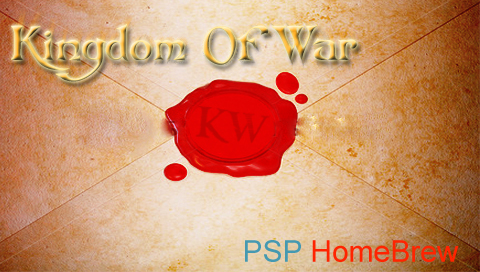 Kingdom Of War PSP is a game (MMO type) developed for the PSP only by myself, it's free and only needs to have a PSP with a WI-FI to play.
I also specify the name of the game has nothing to do with the film of Ching Siu-Tung.
Controls:
square or circle=> move on the action bar
cross => start the desired action
L and R trigger => Rotationner the character
Analog Stick => move the character
Down => keyboard Danzeff
Up => hide text / display text
home => Quit Game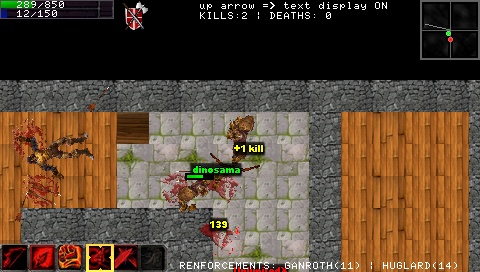 What's new in PRE-R2 V2?
- New spells available (heal, execution etc).
- Some bugs fixed.
- A reinforcement system has been implemented.
- New features (graphics and sounds).
- Fixed a major bug that crashed the PSP.
- The healing spell is now functional and can easily select a close friend (using triangle).
- Adding a woodstaff to the monk (it will no longer a sword)
- The sword is no longer displayed for the battle position of the punch.
- Reducing the number of initial reinforcement 100->20 (considering the number of players at the moment).
- New interface etc ...
How to play?
Download the game and put it into PSP/GAME/ folder.
You'll have something like this: F:\PSP\GAME\Kingdom Of War\
Make sure you have only one connection into your network list on psp.
If it's not the case please, delete all and create the good one.
DOWNLOAD LINK:
http://www.mirorii.com/fichier/86/416658/KOW_PSP_PRE-R2_PATCHED_10072011-zip.html
Official forum && page:
http://wpsp.onlinemmorpg.net/t569-kingdom-of-war-psp-pre-r2-patched-v2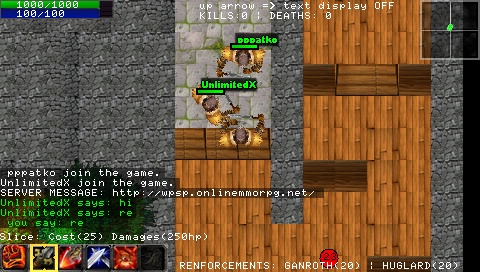 Take part to the battle!
(you can't connect? check this:
http://wpsp.onlinemmorpg.net/t571-connecting-problems
)
head picture by Inox
Screenshots by D4rkoFight