M

e

n

u

HBL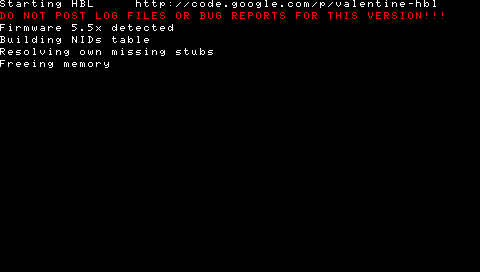 Features add psvita :
menu for SAVEDATA
support zip and rar, install.zip or install.rar
multi zip and rar, max: install10.zip or/and install10.rar
password for zip and rar
delete homebrew
launch wmenu.bin (eboot.pbp for vita)
Features (PSP) :
Languages: French, English, Spanish, Italian and German.
4 folder > 4 list, 40 homebrew per folder.
config HBL (xxxxxx/hbl_config.txt)
config homebrew for HBL (ms0:/PSP/GAME/xxxxxx/hbl_config.txt)
CPU
Battery
Hack Mode > buttonhack, enable wma and flash player, fonthack.
backup flash1 and restore backup.
Download :
Super Collapse 3 :
vhbl-r150-sc3.zip
Motorstorm Arctic Edge (Motorstorm Raging Ice) :
vhbl-motorstorm-r141.zip
Everybody's Tennis (Minna No Tennis) :
vhbl-tennis-JP_EU_US_HK-yosh.zip