TITLE: NMS
AUTHOR: ASKidwai
Version: Second (Final probably)
Signed: Yes
Hello all of you,
This is my second entry for the PSP Genesis Competition called NMS which is the short form of No More Sharing but I prefer NMS
What does this do?
Don't you just hate it when people come and beg you to let them play
your
precious PSP? I do, so I made this. It is a small application built to scare people who want to play it. This is allegedly a message from big $ony telling you that you used unofficial applications and that has gotten 369 errors in the flash0:/ which has to be formatted for anything to be recovered. This then supposedly formats the flash0:/ and well, that's kinda it
I would recommend using AutoStart v5.5 in conjunction with this
JUST A CONFIRMATION: THIS DOESN'T FORMAT flash0:/ AND WILL NOT BRICK YOUR PSP
Screenies
Eboot pics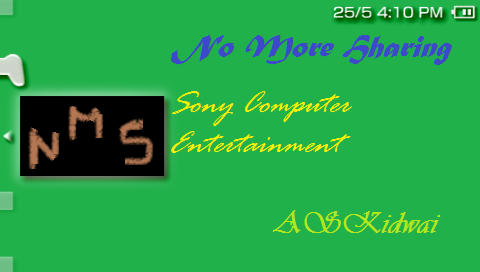 Opening

scare

screen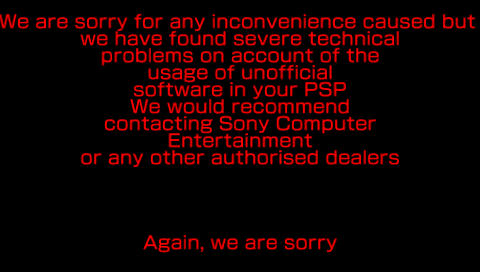 Download v1
Unsigned:
http://www.mediafire.com/?x4oyf98voreaqy0
Download v2
UnSigned
http://www.multiupload.com/57NG78YMEW
Unsigned
http://www.mediafire.com/?fw2mlbs73gtnqbk
Credits
Me for gfx, code
Zack for the interpreter
Feel free to give me ideas to be added
Sorry, it is unsigned
Advertising

Last edited by
ASKidwai
on Wed Jun 08, 2011 11:38 am, edited 4 times in total.