Kingdom Of War PSP is a game (MMO type) developed for the PSP only by myself, it's free and only needs to have a PSP with a WI-FI to play.
I also specify the name of the game has nothing to do with the film of Ching Siu-Tung.
History:
- Idea of the concept (which will be explained later).2008
- Initiated the development and early 2009 establishment of Warcraft Forum PSP.
- Abandonment of Warcraft PSP project (supposed to be a MMORPG) that was too ambitious for an MMO called Kingdom Of War PSP in late 2010.
Introduction:
KOW PSP incorporates many aspects of Warcraft PSP including the system for the selection of spells and control the character.
However there isn't, in KOW PSP, a way to target someone as in World of Warcraft or another game
I wanted to make the game more realistic than Warcraft PSP. You've have to hit, to parry at the good time because timing is very important.
Indeed a KOW's player have 1000HP, a sword hit remove him 350!
KOW's player must also properly manage its endurance not to be disarmed in front of the enemy
- Dynamic Character Animation (enclosing pictures and making them move sequentially)
- Large decrease in lag
- The game has been completely redesigned and is downright cool to play!
- The server can manage 99 players max but your psp will have bug and lag near 15. I'm going to implement something in the server to manage more players
- Many other things!
Old interface Warcraft PSP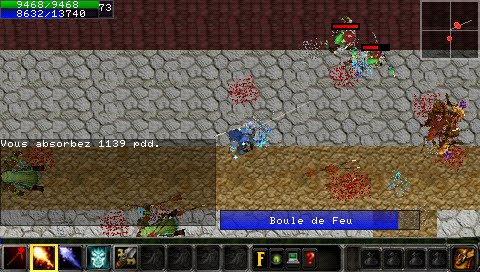 interface Kingdom Of War PSP (beta)
Currently:
There is only one map, but the final version to be presented to the PSP GENESIS COMPETITION will contain several maps.
There is only one character class (Warrior) having an attack of the archer class but you can still choose between two teams (or Ganroth Huglard).
History (summary):
Ganroth, King of the Kingdom of Manthras is accused by the king Huglard of abducting his daughter Méphindra. Despite the claims of Ganroth, who denies abducting his daughter, Huglard decides to launch the assault.
The war already has lasted a year but the forces of King Huglard just force the borders of the kingdom of Manthras.
Controls:
square or circle=> move on the action bar
cross => start the desired action
L and R trigger => Rotationner the character
Analog Stick => move the character
Down => keyboard Danzeff
Up => hide text / display text
home => Quit Game
There is still no ingame menu or when you launch the game I chose to make something functional that something full of menus.
What's new?
- Fixed bug
- Display of color in the dialog box.
- Improvement of the menu.
- You can view the number of players online at the connection.
- nickname can now be 10 characters long.
- It is possible to switch teams during play by
pressing select
.
- Installation of a lags security (you can't spam skills)
- 95% English version, enjoy!
- 3 playable class: Warrior, archer and monk
I have not had time to develop spells of each class. You'll have to wait for the next release.
What does this patch bring the PRE-R2 ?
- Fixed a major bug that crashed the PSP (although there are still one to correct)
- The healing spell is now functional and can easily select a close friend.
- Adding a staff to the monk (He no longer has his sword.)
- The sword is no longer displayed for the battle position of the punch.
- Reducing the number of initial reinforcement 100 to 20 (considering the number of players at the moment).
- New interface etc ...
DOWNLOAD LINK:
viewtopic.php?f=2&t=7804
Video beta's overview :
http://www.youtube.com/watch?v=g1g89AIb13A
PS: sorry for my english, I'am french.
the game is currently in french but I'll do a English and Russian version.
question? :
warcraftpsp@hotmail.fr
Advertising