vitaQuake v.3.0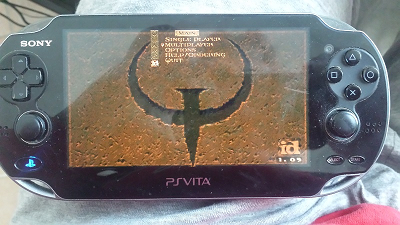 Introduction:
vitaQuake is a port of Quake for PSVITA. It started as a direct port of winQuake but now it' a lot more advanced than this last.
At the moment vitaQuake has unique features like dualshock rumbling when player get hit, an fps counter and an internal render rescaler. It supports also double analogs for comfortable gameplay, online and locale multiplayer with featured servers, soundtracks support, sounds support and a lot more stuffs
Video footage (referred to an old version v.1.3):
https://www.youtube.com/watch?v=oZZv6_dRjYE
Features:
- Native 960x544 resolution!
- Hardware accelerated renderer
- Sound and Soundtrack support
(READ BELOW FOR SOUNDTRACK USAGE)
- Support for shareware and full versions of Quake
- Support for mods
- Native support to both PSVITA analogs
- Unique features like dualshock rumbling, fps counter, ...
- Variable camera sensibility for right analog in option menu
- Touch and retrotouch support
- Danzeff keyboard for Quake console usage
- Different hidden settings unlocked in Options Menu (FOV, Depth of Field, Crosshair...)
- Multiplayer with support for both locale and online games with featured online servers
- Support for native Quake and ProQuake online servers
TODO List:
- Add gyroscope support
Controls:
- Left Analog / Digital Pad = Move player
- Right Analog = Move camera
- O / X = Jump
- R Trigger / Square = Shoot
- Triangle = Change Weapon
- L Trigger = Run
- Touch = Show game status
- Retrotouch = Move camera
- Select = Enable Danzeff Keyboard in Console Menu for commands insertion
Credits:
- MasterFeizz for ctrQuake source which i studied to understand how winQuake works.
- Ch0wW for several improvements and code cleanup.
- frangarcj, xerpi and Davee for helping during the journey that lead to the creation of vitaGL.
- All my patroners for their awesome support:
Billy McLaughlin II
Styde Pregny
XandridFire
AnOtHeROnE
Count Duckula
Jorge Laurencena
Jaden Emrich
polytoad
Defkyle
John Wanot
Ramerson Wesley Araújo
PSX-Place.com
rsn8887
Samuel Batista
Andyways
gnuffy
Colan Wiser
Elwood Blues
Justin
Angel Villagómez
gnmmarechal
Pirloui
Santiago Quiroga
Lars Zondervan
Daniel Crane
Yakara Network
Gelson Silva
Bryan Hanbury
2Mourty
Installation:
- Place the data folder in ux0:/
About Multiplayer:
Currently there is only one official vitaQuake server that uses only shareware maps and is a simple deatmatch with 16 slots. If you want to start a new server, please contact me.
If you want to join the multiplayer community, take a look here:
https://rinnegatamante.it/board/forumdisplay.php?fid=29
How to use soundtrack:
- Create a folder in
ux0:/data/Quake/id1
and call it
cdtracks
- Place the audio tracks renamed as track001, track0002, ... in ogg or mp3 format in this folder.
You can find complete soundtrack in ogg format here:
https://www.quaddicted.com/files/music/quake_music.zip
How to have colored lights:
As of v.2.8, colored lights are available thanks to .lit lights support from DarkPlaces client by LordHavoc.
The simplest way to get colored lights in Quake is to download this package:
http://www.moddb.com/games/quake/addons ... -lightmaps
Grab LIGHTS.PAK file and place it in your vitaQuake installation (where pak0.pak is) and rename LIGHTS.PAK as if it's a normal pak (so if you have pak0 and pak1, rename it pak2.pak).
That package has colored lights support for the two official mission packs too.
Links:
Download:
http://rinnegatamante.it
GitHub Repository:
https://github.com/Rinnegatamante/vitaQuake
Advertising