Hiya, here's something I'm trying to do, while learning the ropes to creating expansion sets:
I picked the Wrestling world (WWE/ECW/TNA/WWF) to base a card set from.
So far I have over a 100 cards, with around 60+ already with detailed abilities. Here are some from the set: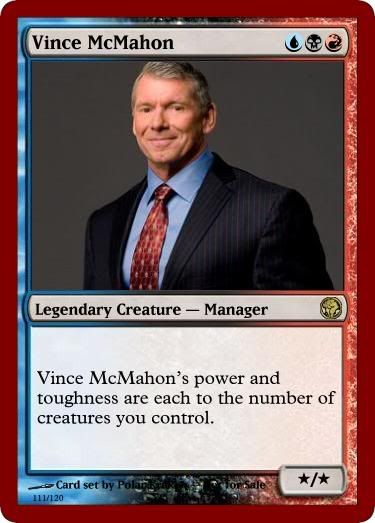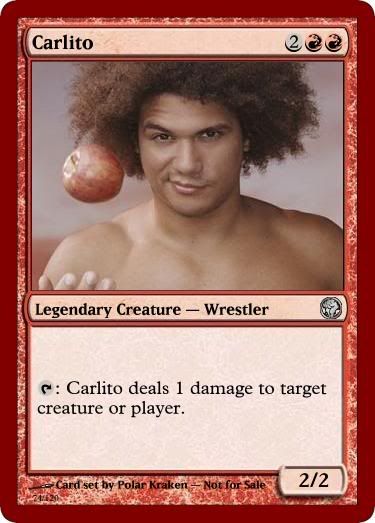 Hope to post the whole set soon!
---------- June 3, 2009 --------------
Ok, I'm done with the set, it contains 150 cards. I've based most of the cards on existing, working Wagic-compatible cards, so they should all work. I did a little tweaking for some cards, but they should also work.
The color's are a little unbalanced, coz I always meant for this set to be a standalone game for Wagic, but the sets will work out fine with other Magic cards.
I split up the colors as follows: Red - WWE Raw superstars, Blue - WWE Smackdown superstars, Black - WWE ECW superstars, Green - (for now) TNA superstars (but would include independent circuits), and White - for retired (or freelance) wrestling legends.
I also just updated the roster(s), to show recent changes - e.g. Mr.Kennedy getting fired, and Zack Ryder's new look.
Hope you enjoy playing with the set! All comments and suggestions are very welcome. Thanks!
file link removed
---------- June 4, 2009 --------------
Updated the card.dat file, and renamed all the cards and thumbnails... seems Wagic wont recognize alpha characters as ids.
http://www.sendspace.com/file/9yisp3