I have started a project to bring the older sets up to the "new" graphics setting and am using the new official game text for each of the cards. Here's a sample of what I'm on about: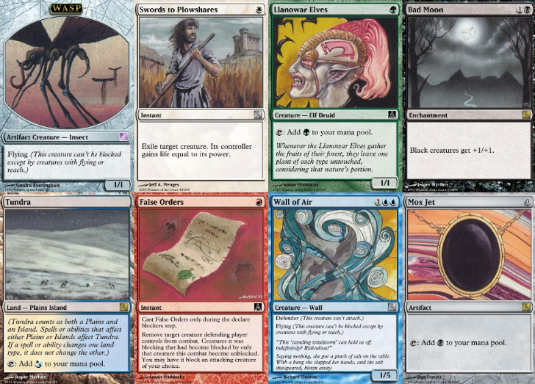 I will post status up here as I finish stuff. Yes...I'm doing the sets out of order!
Currently:
(LEA):
PSP v1.2
&
HQ v1.2
. Wasp token included!
FiXED: "Timetwister" and "Hypnotic Specter" mana costs.
(HML):
PSP
&
HQ
. Tokens are redone with Homelands set symbol.
(LEG):
PSP v1.4
&
HQ v1.0
NEW Stangg Twin token included. Other tokens are from "official" set. Art for "Moat" fixed.
(ICE):
PSP v1.2
&
HQ v1.2
Veldt and Thunder Wall fixed. All blue cards that were misnumbered are now correct. Spoils of Evil mana cost corrected.
(SDC):
COMPLETED!
Comes with custom Zombie token!
(VIS):
PSP
&
HQ
. Thanks to
Nimrais from Deviantart
for for letting me use her art for the Sheep token! Many thanks!
(WTL):
PSP
&
HQ
Alliances (ALL): FINISHED!
PSP
&
HQ
I'm definitely going to get some "test material" to get the set symbols right since the reference material available isn't "really" HD. The current Homelands symbol is one I made from looking at a box top at an online reseller.
If anyone wants to submit new art for the tokens, I'll be more than happy to include you name as the card artist.