Unofficial CAPCOM CPS2 Emulator for PSP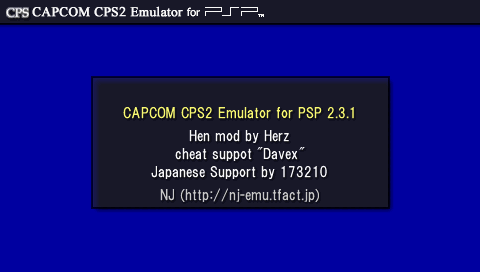 This is mod of CPS2PSP.
CPS2PSP is CPS2 Emulator made by NJ.
----What is different from original?----
1.Based swarzesherz's mod
2.Spanish added by swarzesherz (Of course, these support Japanese and English, too.)
3.Cheat added by Davex
4.Work on PSP-3000, Go, Street, eCFW
5.Added a few fix
Latest Version : Unofficial CAPCOM CPS2 Emulator for PSP 2.3.1 for 1.5 Kernel Mod rev.4
Release Date:
2013/01/19
Downloads
Older Versions
More...
In this section you will find additional links related to this application
We didn't reference any discussion on our forums about this homebrew yet, but you can create one!