Pipeline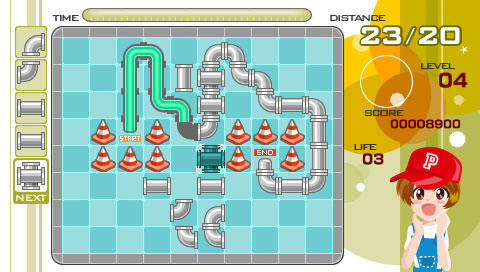 Snowmydog returns with the beautifully crafted remake of Pipe Mania.
In Pipeline you're tasked with the responsibility of a [good looking] plumber. You must build a free-flowing pipe from start to end before time runs out and the taps turn on. So act fast, otherwise you'll look quite the fool with water all over the place.
Latest Version : v0.3
Release Date:
2008/06/2
Notes for this version:
eboot signed & shrunk 2011
v0.3 changes:
New levels added (total 43 levels)
Full featured level editor
screen now working
When clear all levels, ending screen now working correctly
Known bugs fixed

Downloads
Find download links for Pipeline below.
Older Versions
(Some additional versions are pending review)
More...
In this section you will find additional links related to this application
We didn't reference any discussion on our forums about this homebrew yet, but you can create one!