Minimur, WTH Happened This Week? Xbox One Teardown, Wii U Sales Forecasts Are Dismal, and Crash Bandicoot Making A Return?
So guys this week we've got: me asking for your PSN id's, a supposed Game Of Thrones…. Game, and a FABULOUS game known as 'ultimate *** fighter'. No, really!
So now on to the most exciting reasons to why you might click on the article, a new Crash Bandicoot.
In the Playstations Easter egg filled launch trailer features a few street signs in the side of the video showed this:


Crash coming to PlayStation?
In a recent tweet sent out to Adam Boyes, asking if PS has taken a hold of the Crash Bandicoot IP, he said:
@shinobi602 Activision owns the IP, so you should ask them about it…

— Adam Boyes (@amboyes) November 22, 2013
So it still seems that activision own the IP for the moment, they have made a comment on the 'their' IP and said this:
---

---

Activision owns Crash Bandicoot and we continue to explore ways in which we could bring the beloved series back to life,
Maybe Activision are developing a game exclusively for PS4? Or was that sign a simple 'homage' saying how Crash Bandicoot was on Playstation.
My head hurts.
All I know is that if there's a new Crash Bandicoot announced, I'll be dancing like this!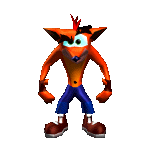 So why do I want your PSN's? Its because I'm getting this thing called the PS4, not sure if you've heard of it, and no one I know is getting it. So I want people to play Killzone with. And who better to ask than the awesome Wololo community? If you haven't guessed, my PSN is if you haven't guessed already. Minimur12. See you on the battlefield! Or Killzonefield…. Whatever.
So add away! I hear there's a 2,000 friend limit. 🙂
Okay, news time now. And here's all the vita announcements I could find:
Conception 2 localisation
and here's a strange one:
Persona 4: Dancing all Night (Currently slated for a JP release only)
We've also got the missing levels of the new Rayman game coming out for the Vita. They will be out and free to download on the 26th.
We've also got news about a new Lego game, belive it or not. This one is based of the latest spinoff from Lord Of The Rings, 'The Hobbit, and is supposedly being released next summer.
So let's move on to one of the more unique pieces in this news roundup, a game known as Ultimate *** Fighter, to be honest it looks pretty good, it's just a shame that it's only coming to iOS/Android. I would like to play this on my Vita that's for sure.
What I liked, is that the well known 'fatality' for the Mortal Kombat has been re-named to 'Gaytality'. Genius 😀
The game is developed by 'Handsome Woman Studios' and pits *** stereotypes against eachother. Play at your own risk! 😀
Disclaimer: In no way do I mean to sound rude, ignorant, or homophobic in this section. I deeply apologise if I do.
Anyway, let's move on to some Xbox news. You'll be happy to know that the Xbox sold 1million consoles 'in under 24 hours' and Xbox wire provided some interesting and fun statistics.
Over 60 million zombies have been killed in "Dead Rising 3"
Over 3.6 million miles driven in "Forza Motorsport 5″
Over 7.1 million combos in "Killer Instinct"
Over 8.5 million enemies defeated in "Ryse: Son of Rome"

And, fans also found time for some exercise, with over 43.3 million Fit Points earned in Xbox Fitness.
Yusuf Medhi came out to say a few words also:
We are humbled and grateful for the excitement of Xbox fans around the world, seeing thousands of excited fans lined up to get their Xbox One and their love for gaming was truly a special moment for everyone on the Xbox team. We are working hard to create more Xbox One consoles and look forward to fulfilling holiday gift wishes this season.
I don't mean to downplay these sales because it is highly impressive, but a lot of people are saying this brings them back up to speed with Sony, it doesn't however being as Xbox One launched worldwide, and Sony only launched in America. This makes me wonder how many more sales are in the waiting for Sony's other regions, and now that China has lifted its console ban, mine is certainly on it's way 😀
Xbox and PS4 have received a teardown by the youtube channel ifixit, and here they are:
They also did a kinect teardown, here it is:
What interested me was that the kinect itself actually has 1gigabit of ram inside it, so does this mean the Xbox itself features 7GB of DDR3 on the console? Or that the console has 9 GB of RAM. I've said it before, I'm not a tech-head. Let me know what would be more practical/what you think the answer is.
Let's talk about shopto for a second, they've posted a picture of their warehouse full of PS4's, and it looks pretty cool. One of these is mine. Can you see it?

It's coming!
What? I totally don't have a countdown app on my phone…..
(It's totally not 4 days, 11 Minutes and 20 seconds)
Speaking of sales, an Analyst has released their sales forecasts for the Wii U… and it's not looking too good. They've lowered the lifetime sales estimate to 25 million. The analyst suggests that the console will solely be a first party console. Just like the GameCube was, which sold a dismal 22million, it's a shame the Wii U has failed and caused people to think like this. Funny thing is my brother is getting a Wii U next week, while I'm getting a PS4. Even if he's on the TV I can always do remote play. 🙂

Weekly blog round-up
Reddit Time
http://www.youtube.com/watch?v=PfrsvfcZ8ZE 
I saw this on N4G, but I thought it was so impressive I had to let this one slide: