Best PSP/Vita homebrews for February 2013
If you're one of the lucky people running an eCFW such as TN CEF, or ARK, or maybe VHBL on your Vita, or simply if you own a PSP running a Custom Firmware and are looking for good homebrew games, look no further. Here is our ranking of the best 10 homebrews this month, as voted by you.
Reminder: you can add your own homebrews to our /downloads Database, and vote for your favorite ones. This doesn't require any login.
Lots of "Vita only" tools this month, but a good list of PSP homebrews made it to the top 10 too 🙂
10. CEF 6.60 TN (Vita only)
Many Vita owners have been enjoying homebrews in the psp emulator for a while now, since the first release of VHBL exactly one year ago. But Total_Noob's CEF stepped the game up by introducing full psp homebrew support, plugins and backup supports on the Vita. This is still limited to the lucky people who are able to get the exploitable games in time, but with the upcoming update "TN-V", CEF is the most popular eCustom Firmware for the Vita these days
Download CEF here
9. Stickman Jump
A newcomer to this ranking, and a pretty new Homebrew game, since it was created this year. Give a try to this Ninjump clone!
download Stickman Jump here
8. MultiMenu Loader (Vita only)
---
---
CEF allows you to use several menus as the interface to load your homebrews and psp games. These menus all have pros and cons, and it is sometimes difficult to choose. Multimenu loader lets you run the menu of your choice each time you run CEF, in order to get the best of each one of them.
Download MultiMenuLoader here, or MultiMenu Loader mod here
7. MultiMenu Loader Theme (Vita only)
A nice looking theme by pspsheep for those of you who are using MultiLoader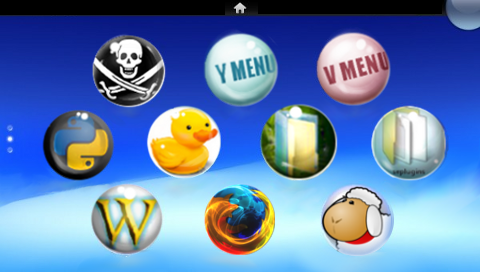 Download pspsheep's MultiMenu Loader Theme here
6. The PSPIMP
A nice graphics editor in Lua for your PSP
Download the PSPIMP here
5. Mindcraft
Although lots of us prefer the excellent Lamecraft, this 2D game inspired by Minecraft is still pretty nice.
Download Mindcraft here
4. PSP Revolution
You'll never truly understand life until you've played Dance Dance Revolution… PSP Revolution will of course not give you the same physical experience, but is still a nice challenge for your fingers. Still one of the best musical games on the PSP to date, and it's a homebrew 🙂
Download PSP Revolution here
3. CWCheat
The ultimate cheating utility for your PSP games. If you're one of the lucky owners of a Vita running Total_Noob's CEF, CWCheat will also help you there 🙂
Download CWCheat here
2. Open CMA
The patch that lets you copy files from and to your Vita without having to be connected to the internet. Yes, having to be constantly connected just to copy files is stupid and unnecessary, as proven by the popularity of this tool.
Download openCMA here
1. Wagic
As far as I can remember, Wagic hasn't been in our top 10 ranking, ever. And the first time it makes it to the ranking, it reaches the first position, thanks a lot for your support! Wagic is an heroic fantasy card game inspired by a famous TCG. Although I personally haven't been updating Wagic in a while, our devs team (in particular Zethfox) is still maintaining the SVN code, and our community is still adding new cards regularly.
Download Wagic here
Keep voting and adding your homebrews to our community database! Apologies for the time it took me to review the latest entries this year, I'll try to be more diligent moving forward 🙂