Droid X360 – The best Vita knockoff ever?
China is well known for not caring too much about copyright infringement or patent infringement when it comes to electronic devices. The Droid X360 is no exception, and is probably aiming for a record here, with a name strangely sounding like some famous Microsoft product, a design "inspired" by the Playstation Vita, and a bunch of preloaded Nintendo and Sega emulators.
And just to attract more customers, the console is also nicknamed the "A10 PSP", where "PSP" stands for "Play Station" (not to be confused with "Playstation"… or wait, actually the goal is to confuse them). But long gone are the days of cheap Chinese knockoffs such as the polystation, the Droid X360 actually sounds like it could be an interesting piece of hardware for a reasonable price:
Available from retail at about 110$ (or closer to 80$ if you live in mainland China), this Android tablet ships with Android 4.0 (how many of you are still stuck on 2.3, despite owning "famous" manufacturers hardware?), and has fairly interesting hardware: a 5" multitouch screen, 1.5GHz CPU, Wifi, HDMI output, front and rear camera, 512MB of Ram, an actual gamepad …(check the full specs below)
For less than half the price of the Vita, this is actually not that bad, and makes me wonder why such companies don't simply go with their own designs / name / etc… since they have a reasonable piece of hardware to sell. Is their plan to get free advertising from websites calling them off as ripoffs? I guess there is no such thing as bad advertising…
You know what, I'm almost temped to get myself one…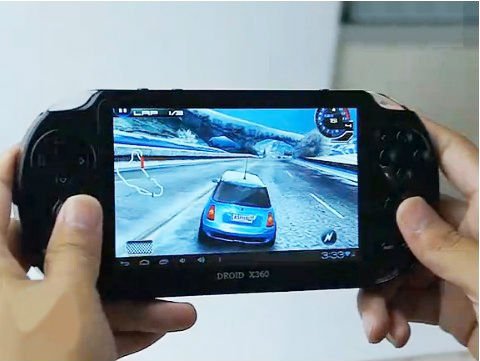 Note, this is not the Yinlips that was mentioned here before, it's a new device.
Specifications
5″ Capacitive screen and mult touching, 800*480 resolution;
CPU: Allwinner A10 1.5GHz;
GPU: Mali 400 3D;
RAM: 512MB;
ROM: 4GB, option: 8GB;
External storage: micro SD, 2GB~32GB;
Operating system: Android 4.0.4;
WIFI: 802.11b/g/n, support WAPI and WIFI Direct;
3G: support external USB 3G dongle;
Camera: Front 0.3 Mega Pixel, Back 2.0 Mega Pixel, support video chating;
G-sensor: support;
Adobe Flash: Flash 11.1;
OTG: for Keyboard, mouse, USB flash device, etc.
Speaker: 2*1W;
HDMI: support HDMI output and playing same time;
Video format: support AVI(H.264, DIVX, DIVX, XVID, rm, rmvb,  MKV(H.264, DIVX, DIVX, XVID), WMV, MOV, MP4(H.264, MPEG, DIVX, XVID), MPEG, MPG, FLV(H.263,H.264);
Audio format: support MP3,WMA,MP2,OGG,AAC,M4A,MA4,FLAC,APE,3GP,WAV;
Pictures: JPG, JPEG, GIF, BMP, PNG;
E-Book: TXT, EPUB, PDF;
Office: WORD,EXCEL, POWERPOINTS;
Browser: Google;
Flash: adobe flash 11.1;
Android Market: support;
Game: Built in arcade game, Nintendo 3D game, Sony PS1, Nintendo GBA, Nintendo GPC, FC, SFC, Sega MD, Sega GAMEGEAR, WIFI dierect, Android touch control games, Android G-Sensor Games Emulator;
Language: mult;
Port: 1*power input, 1*OTG, 1*headphone jack, 1*HDMI, 1*Microphone, 1*Micro SD card;
Battery: 2800mAH, about 4hours for play game;
DC input: 100~240V;
DC output: 5V, 2A;
Accessories: 1*charger, 1*OTG cable, 1*user manual,
Dimension: 186*75*15.5 mm.
---
---
So, what do you guys think? Could Chinese knockoffs be an interesting gaming alternative nowadays?
Those of you interested to buy it from outside of China can get it from aliExpress. Note that I am not affiliated to that website and never tested their service.
Thanks to Raziel for the tip!