WTactics: become a character in an open source TCG
A while ago I mentioned WTactics in my article on free art for game developers, a trading card game under active development.
Everything, from the card images to the rules, is open source, and welcoming users contributions. One of my hopes for Wagic is to make our engine flexible enough that we will support WTactics one day.
One of the major difficulties in creating a collectible card game is art. Each card needs to have its own art, and players are quite demanding in this kind of hobby. Recently, WTactics started a donations drive, with a quite interesting concept: For a fixed price donation, they will turn you into a character on one of the cards in the game.
The base donation for this is 75$, but you get a 10$ discount if you don't ask for a Human or elvish character (they probably have enough of these already). For a full blown portrait, this is a very reasonable price. The resulting image is published under the GPL license on opengameart.org (awesome site!), and every game developer can use it however they want.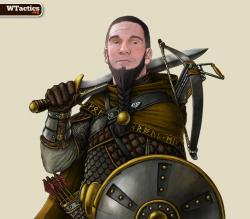 If your boyfriend/girlfriend is into Heroic Fantasy, this can be a great present (trust me, you wont find such good art for such a low price anywhere else!), and it contributes to open source art, which is fundamentally a very good thing 🙂
More details on the WTactics site here: http://wtactics.org/portrait/. This is a promotion limited to the first 20 requests, so hurry up 🙂