Best PSP/Vita homebrews for March 2012
Here are the 10 most popular homebrews as voted by you in March 2012. The "VHBL effect" is clearly here, with a good share of the top homebrews this month being compatible with VHBL on the PS Vita. Enjoy!
10. Bookr (compatible PSP/Vita)
The PDF Reader for the PSP has been one of the favorite homebrews on the PSP for years, and keeps going strong. The PSP and Vita both lack PDF reading features, and this homebrew is here to fill the void on both consoles.
9. Cave Story (Compatible PSP/Vita)
The old school platformer with some RPG elements is still one of people's favorites.
Works on the vita too!
8. Kingdom Of War PSP
---
---
Unlimited X gave a boost to Kingdom of War recently, with an udate to both the game and his servers. Kingdom of War is a MMORPG for the PSP, entirely free!
7. Lamecraft (compatible PSP/Vita)
Since it was released in 2011, Lamecraft, a great Minecraft clone, has never lost its popularity. Its creator Drakon updated it 5 days ago to make it compatible with VHBL on the PS Vita!
6. Open CMA
Still need to introduce this? Open CMA is Virtuous Flame's tool that allows you to copy files from and to your vita without the need to be connected to the internet.
5. Pro CFW
The open source Custom Firmware is still growing strong, progressively replacing older Custom Firmwares on everybody's PSP.
4. Sce Live Area
A Shell that aims at reproducing the Vita menu on your PSP.
I for one am wondering why anybody would want to do that (I largely prefer the PSP XMB), but hey, I won't judge 🙂
3. Med PSP, PSP Medical Doctor
I'm confused at the recent popularity of a homebrew that has been around for years, but maybe that's me being sick somehow. Let's diagnose this…
PSP Medical Doctor is not a game but an actual tool, a database of symptoms and diseases. Enter your symptoms, and find your disease… Of course, the results are to take with a grain of salt! Supports several languages, and hosts a database with thousands of diseases.
2. Snes9xTYL (Compatible PSP/Vita)
The most stable and fastest Super NES emulator on the PSP, also works on the Vita with VHBL. 'nuff said?
Download Snes9xTYL here (This version is recommended for VHBL)
1. Adventure Game Studio
JJS's port of this point-and-click-adventure-games engine was updated recently to support more games. Adventure Game Studio allows you to play gems such as Indiana Jones and the Fountain of Youth (an project – pictured below – to revive the old Indiana Jones series of games) or Gemini Rue. Lots of AGS games are free, and those that are not are extremely affordable.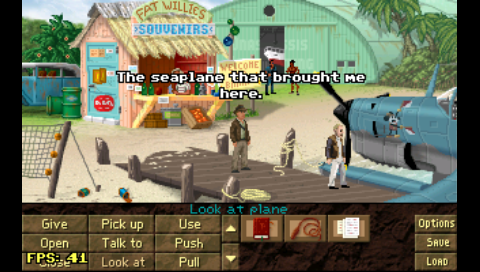 Download Adventure Game Studio here
We have many more cool homebrews on /downloads, feel free to add yours and to rate your favorite ones!
Also be sure to check the best homebrews for February and January!