The best 25 homebrews of 2011, download links included (part 1)
When we announced the various winners of the genesis competition (which, for those who don't know, was the biggest PSP homebrew competition ever organized), I said there was a list of 28 entries (out of the 111 we received) that caught my attention. I also promised I would blog about it one day. This day has come, and I will list my favorite entries of the genesis competition in this post.
This list, like all "best XXX of the year", is biased. I'm only focusing on Genesis entries (but you'll have to admit, 95% of the new homebrews submitted this year were submitted as part of this contest), and it's my personal ranking. Your opinion might differ on the specifics, but I think overall this list of 25 homebrews is a list of great quality. The list is also not entirely the list I had initially during the vote. Some of my "favorites" were "work in progress" releases, and I was expecting those to become the next big thing, but due to lack of pursued development, these projects are much less interesting than they could have been. So I removed a few entries, to reach the much satisfying number of 25.
Action, puzzles, plugins, utils… You won't like all of them, but there will definitely be some homebrews that you love in this list.
25. Cale
A Nice looking labyrinth game by D-T-K, with a deck editor and unlockable trophies. You play as a ball of light in a dark maze, you have to find the exit as fast as possible. Download here

24. Easy 6.20 DualBoot
Can't decide between TN Hen and Pro CFW? Install several permanent CFW on your PSP and switch between them at startup! Download here
23. Xplora
Yet another shell? But a good one, Xplora looks simply gorgeous and is entirely written in C. It contains an mp3/ogg player, an archive manager that allows you to extract zip and 7z archives directly from your PSP, a plugin manager, a video player, a text editor. You name it, Xplora has it. Download here
22. NewSlide
PSP Go owners don't get enough love, but Newslide is here! Customize the PSPGo clock as much as you want. A great and original concept, even if the speed could be improved. Download here
21. P0rtal 2D
---
---
Unless you've lived under a rock for the past 5 years, you know the concept of this puzzle game. open paths in the walls with your blue and orange beams. Nice game with editor included, great replay value thanks to the editor. Download here
20. Desert Stunts
Good original homebrews in 3D are rare. So, when on top of that, they include several missions and a trophy system, there's no reason to not try them. Download here
19. Amoebax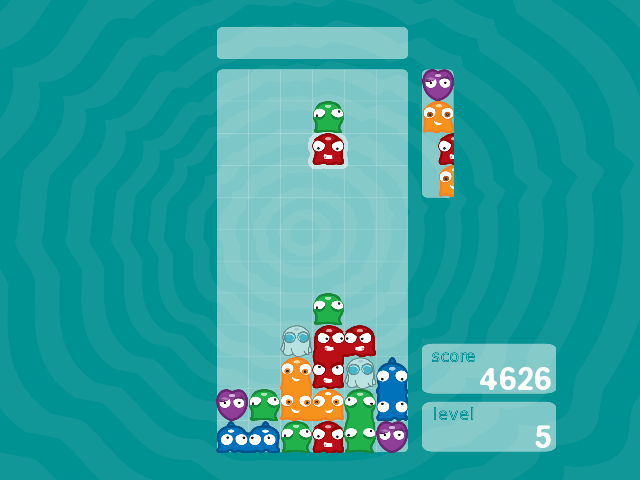 When I was a kid, I was a big fan of a game called Dr. Robotnik's mean bean machine… If you've played that game or Puzzle Bobble, you'll immediately understand the concept. This is a port of a cute open source game. Download here

18. aLoader
The Iso loader for TN Hen, that allows to run homebrews directly from the XMB. This was a very essential component of the scene for a few months, and, surprinsingly enough, lots of us are still running TN Hen, so aLoader is still a very useful plugin. Download here
17. B-Gen
Clever use of some Creative Commons music by NiN here. This musical game of a new genre will remotely remind you of rhythm games like Patapon… but with a completely different atmosphere. Download Here
16. Minesweeper
Just like Tetris, Minesweeper is one of those games that you have to have on your PSP at one point or another. This version is one of the best I got to play so far. The customizable grid size allows players of all levels to have fun. Download here
The rest is coming soon
Ok, that's it for now, it's getting late, my personal 15 favorites homebrews for this year will come in next entry. In the meantime, don't hesitate to play, and rate your favorite homebrews in our homebrew database 🙂
More…